Quadrophenia is a double album released by English rock band the Who on 26 October, 1973. It is the sixth studio album by the group.
In addition to the group´s typical style – including Keith Moon´s characteristic drumming – this album also features as lot of Pete Townshend´s multi-track synthesizers and sound effects, and layered French horn parts performed by John Entwistle.
In a 2011 interview, Townshend said he now considered Quadrophenia to be the last great album recorded by the Who, and that the group never recorded anything that was so ambitious or audacious again.
The single 5:15 was released before the album, in early October 1973, the day after a live appearance on Top of the Pops. The album was released in the UK on the 26th of October, but in a fairly limited amount of copies as it was difficult to source vinyl due to the OPEC oil embargo. For the United States market, Love Reign O´er Me was selected as the lead single, and released on 27 October.
The album Quadrophenia was originally released as a two-LP set, with a gatefold jacket and a booklet. The booklet contained lyrics, a text version of the story, and photographs illustrating the story.
The album generally got positive reviews in both the UK and the USA, and New Musical Express´s Charles Shaar Murray called it the "most rewarding musical experience of the year".
In a year-end top albums list for Newsday, Robert Christgau put it on spot #7, and described it as exemplary of how 1973's best records "fail to reward casual attention. They demand concentration, just like museum and textbook art."
Critics have continued to be fond of the album, and in the year 2000, Q magazine included it in their List of the 100 Greatest British Albums Ever. Quadrophenia is also included in Rolling Stone magazine's list of the 500 greatest albums of all time.
For Quadrophenia´s 40th anniversary celebration, Billboard reviewed it again, noting that "Filled with performances packed with life and depth and personality, Quadrophenia is 90 minutes of the Who at its very best."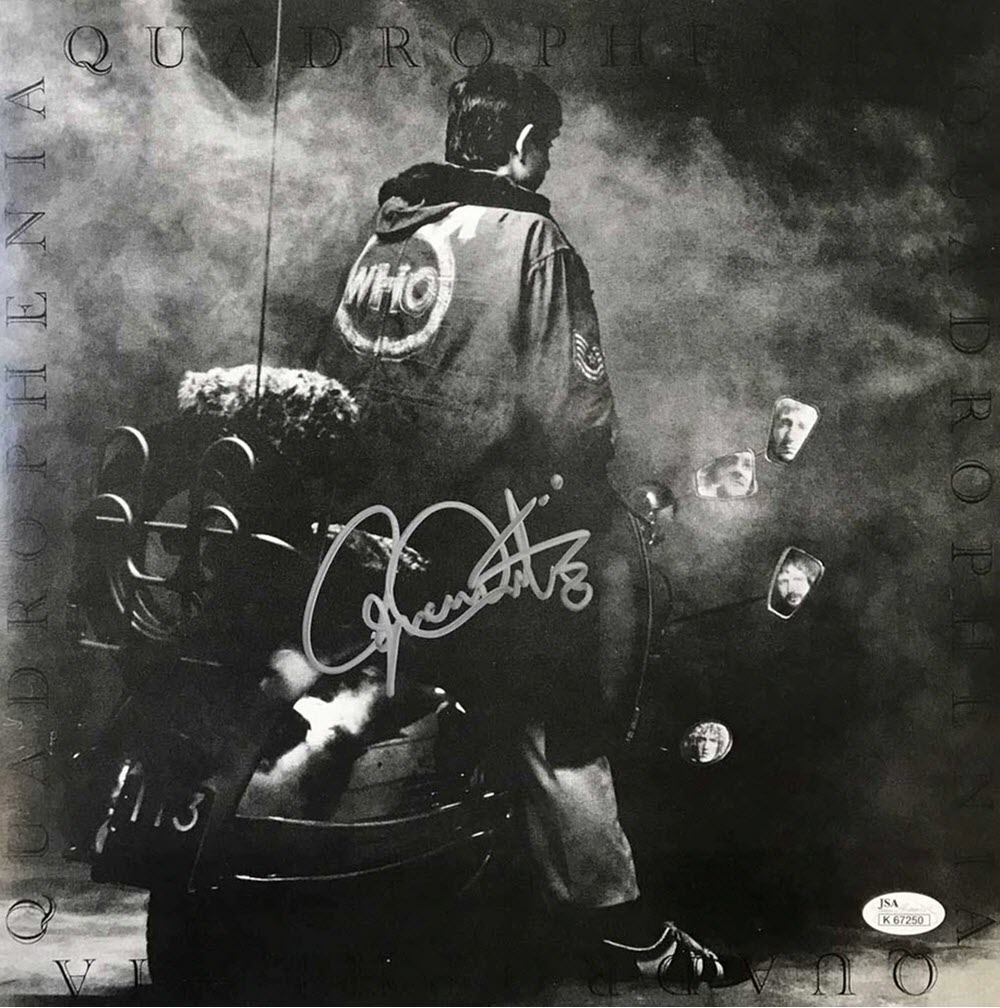 Quadrophenia – a rock opera
Quadrophenia is a rock opera album, where the story is set in 1965 London and Brighton and follows a young working-class mod named Jimmy. The album was accompanied by a set of recording notes for reviewers and journalists that explained the story and plot. The name Quadrophenia is a wordplay on schizophrenia and denotes how Jimmy has a four-split personality.
Jimmy – who likes drugs, romance and fights on the beach – becomes a Who fan after a concert in Brighton. He clashes with his parents over this amphetamine use and inability to hold down a steady job, and he endures an unsuccessful trip to see a psychiatrist. Jimmy doubts his own self-worth, and struggles to keep up with his peers. A series of events sends him further down into bleakness: he gets a job as a dustman but quits after just two days, his girlfriend leaves him for his best friend, and he ruins his own scooter. After contemplating suicide, Jimmy gets on a train to Brighton to seek out the mods he had loved hanging out with before. In Brighton, he finds out that "Ace Face" who used to lead the mod gang now works as a bellboy in a hotel. Jimmy steals a boat and sails out to a rock to contemplate his life. The ending is ambiguous.
---
Learn more about day trading
Day trading is becoming ever more popular. More and more people learn how to make money on the stock, option and currency markets.  Retail brokers make it easy for anyone with a high-speed internet connection to day trade from home.  They provide access to a multitude of markets from all over the world.  Most brokers are designed to work with a wide variety of different trading platforms.  AS a new day trader you should always choose a broker with good customer service so that you can get help if you encounter any problems.  If you want to know how to learn more about day trading then you can learn everything you need to know by visiting Daytrading.com.
---
Short facts about the 1973 album Quadrophenia
Genre: Hard rock, progressive rock
Length: 81:42
Label: Track Records, UK; MCA, USA
Release: 26 October, 1973
Recorded: May – June 1973, and May – September 1973 using 16-track recording
Studios: Olympic in London; Ramport in London with Ronnie Lane´s Mobile Studio
Singles from Quadrophenia
"5.15 / Water"
Released: 5 October 1973 (UK)
"Love, Reign o'er Me"
Released: 27 October 1973 (US)
"The Real Me / Doctor Jimmy"
Released: 12 January 1974
Trivia
Quadrophenia was the only Who album composed entirely by Pete Townshend. With that said, he deliberately made the initial demos sparse and incomplete to allow for the other group members to contribute creatively with their parts.
Ronnie Lane´s Mobile Studio was used because a new studio that was being built was not completed on time.
To obtain the string section sound, Townshend purchased a cello and spent two weeks learning how to play it.
The album tour following the 1973 release was plagued by problems, and backing tapes replaced the additional instruments on the album.
The album and subsequent film became important for the mod revival movement of the late 1970s.
Background and production
The Who started working on the album Quadrophenia in 1972. It was to be their sixth studio album, and at this point, they had already achieved both commercial and critical success with the albums Tommy (1969) and Who´s Next (1971). Now, they were struggling to decide what to do next.
In May 1972, the Who recorded some new material together with Glyn Johns, with whom they had collaborated during the creation of Who´s Next. Among other things, this resulted in the creation of a mini-opera called "Love Live Rock – Rock Is Dead". The band ended up feeling that much of the material that came out of these sessions was too derivative of Who´s Next, and the sessions where abandoned, although both "Is It In My Head" and "Love Reign Oér Me" eventually made it onto Quadrophenia.
Eager to try something new, Pete Townshend decided to follow Frank Zappa´s idea of producing a musical soundtrack that would tell a narrative like a film. For this, he sought inspiration from "Long Live Rock – Rock Is Dead" and began working on a story about youth and adolescence. After meeting with long-time the Who fan "Irish" Jack Lyons, Townshend got the idea to include the group´s history and their audience in the story.
The character Jimmy was developed based on a combination of traits borrowed from "Irish" and five other early fans of the group. That gave the character a four-way split personality, which in turn led to the album´s title – a wordplay on schizophrenia.
To illustrate the four-way split, Townshend wrote four themes – with each theme reflecting one specific member of the Who.
Bell Boy (Moon)
Is It Me? (Entwistle)
Helpless Dancer (Daltrey)
Love Reign Oér Me (Townshend)
On the album, the title track Quadrophenia and The Rock both contain the four themes; separately and together.
Studios
The group had decided to build their own studio in Battersea, London for the recording of Quadrophenia, and work on Ramport Studios commenced in November 1972. Five months later, it was still not in a suitable state, and the group instead had to borrow a mobile studio from Ronnie Lane (bassist of Faces, and a friend of Townshend).
Recordings
For most tracks, each group member recorded his parts separately. As mentioned above, Townshend had left a lot of space in his demos to allow for each band member to contribute creatively to the finished product.
Entwistle recorded his "The Real Me" bass part in one take on a Gibson Thunderbird. Recording and arranging his numerous multi-tracked French horn parts took several weeks.
In addition to drumming, Moon can also be heard singing lead on Bell Boy.
For the finale of "Love, Reign O´er Me", Moon played on a large group of percussion instruments before kicking over a set of tubular bells.
Most of the synthesizer sounds come from Townshend´s ARP2500 and were recorded in his home.
The only song arranged by the group in the studio is 5.15.
The Doppler whistle of a diesel train recorded near Townshend´s home in Goring-on-Thames can be heard as a sound effect on the album. Another example of a field recording (by Townshend, on a reel-to-reel recorder) that ended up in the final product is the sound of waves on a beach in Cornwall. While watching a brass band play in Regent´s Park, Nevison recorded a piece of the march The Thunderer by John Philip Sousa, and this part can be heard at the ending of "The Dirty Jobs".
Musicians
The Who
John Entwistle – French horn, bass guitar,  vocals
Roger Daltrey – Lead vocals
Keith Moon – Drums, percussion, vocals
Pete Townshend – Guitars, keyboards, banjo, cello, vocals, sound effects
Additional musicians
Chris Stainton – Piano on "The Dirty Jobs", "5:15", and "Drowned"
Newsreader
The newsreader heard on "Cut My Hair" is BBC announcer and presenter Jon Curle.
Production personnel
Producer: The Who
Pre-production: Pete Townshend. Kit Lambert
Executive producers: Chris Stamp, Pete Kameron, Kit Lambert
Associate producer: Glyn Johns for "Is It in My Head?" and "Love Reign O´er Me"
Engineer: Ron Nevison
Engineering assistance: Ron Fawcus
Mixing continuity: Ron Fawcus
Studio earphone: Bob Pridden
Special effects: Rod Houison, Ron Nevison, Pete Townshend
Front cover design and photography: Graham Hughes
Art direction and insert photography: Ethan Russell
Additional production staff for the 1996 reissue
Remixing: Jon Astley
Remastering: Bob Ludwig
Design and art direction: Richard Evans
Richard Evans also did design and art direction for the 2011 super deluxe edition
Sales chart performance for the 1973 album
Position #2 on the 1973 UK Albums Chart (It was kept from the top spot by David Bowie´s "Pin Ups")
Position #2 on the 1973 US Billboard Pop Album chart. (It was kept from the top spot by Elton John´s "Goodbye Yellow Brick Road".
Certifications
The 1973 album sold Gold (a minimum of 100,000 copies) in both France (SNEP) and the United Kingdom (BPI). In the United States (RIAA), it reached Platinum certification which requires at least 1 million sold copies.
Re-issuing
The 1973 album has been reissued on several times, in various formats, and sometimes with remastering and remixing correcting certain perceived flaws.
One example is from 1985, when MCA Records re-released the album as a two-CD set, accompanied by a thin fold-up sheet for the text storyline but no photographs.
The album was reissued as a remastered CD in 1996, alongside a reproduction of the original album artwork. On this version, Daltrey´s volcals are not as buried as on the original album.
In 2011, Townshend and Bob Pridden remixed the album for a deluxe five-disc box set with a 100-page book and photographs. This box set comes with two discs of demos and includes some songs that can not be heard on the 1973 album. There is also a selection of songs in 5.1 surround sound. At the sime time as the deluxe box set, the group also re-released the standard two-CD version with a selection of the demos as bonus tracks.
In 2014, the album was released on Blu-ray Audio with a new remix of the entire album in 5.1 surround sound, and the 2011 Deluxe Edition stereo remix, and the original 1973 stereo LP mix.
Offshoots
Here are just a few examples:
The album tour following the 1973 release was retired in early 1974, but revived in 1996 with a larger ensemble, and an additional tour took place in 2012.
Quadrophenia was turned into a movie, which premièred in 1979. Directed by Franc Roddam, it had Phil Daniels portraying Jimmy and the musician Sting as Ace Face. The music is not performed by the cast.
The soundtrack for the film Quadrophenia included three additional songs written by Townshend. These three songs are Kenney Jone´s first recordings as an official member of the Who.
Quadrophenia has been done as a musical for the stage numerous times. One example is from 2007, when students from the Royal Welsh College of Music & Drama staged an independent production of Quadrophenia in Cardiff, with the blessing of Townshend.
In 1995, the rock group Phish – accompanied by a four-man horn section – performed Quadrophenia as a Halloween musical in Rosemont, Illinois.
In 2015, Classic Quadrophenia was released – an orchestral version of the album, conducted by Robert Ziegler and with orchestration by Rachel Fuller. The Royal Philharmonic Orchestra performed together with the London Oriana Choir, and tenor Alfie Boe sang the lead role supported by Billy Idol, Phil Daniels and Townshend.